Stranger in a Strange Land - Saturday 12th November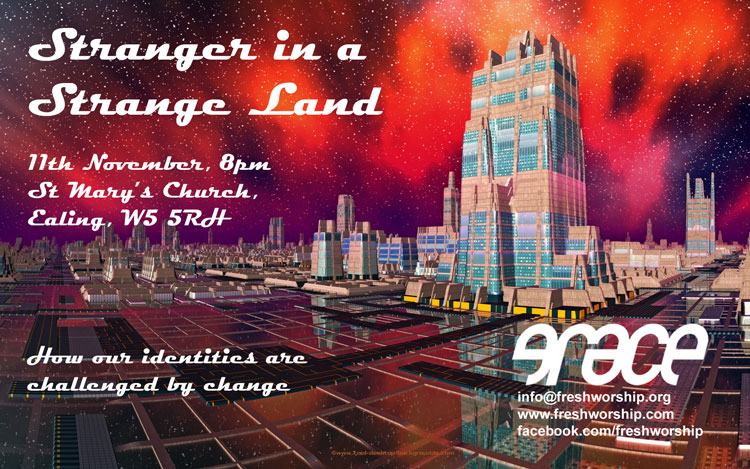 How does change challenge our identity? How do we handle situations in our lives when things familiar seem no longer so? We in British society are coming to terms with a future Brexit. Come and hear from those who have had to face even greater change, both individually and for their society.
---
Iceberg - photos and archive
Some Iceberg photos here.
The service materials including slideshow are in the archive here.
---
Iceberg - Saturday 8th October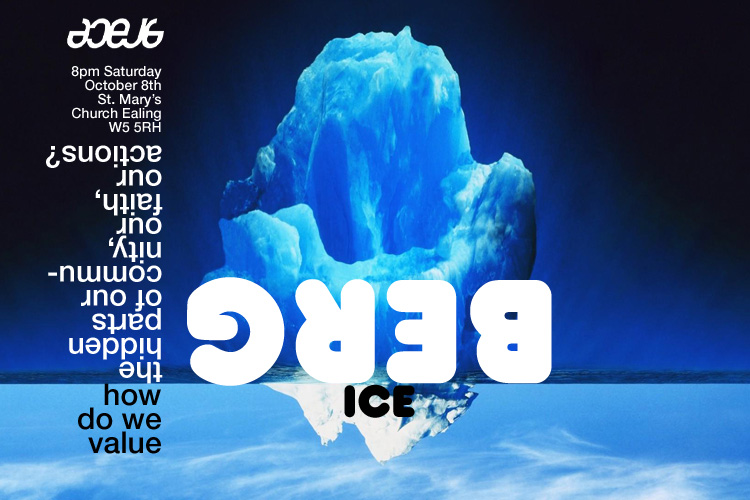 The lower part of the iceberg is invisible, immeasurable - and yet it supports everything that we see. How do we measure the worth of the hidden parts of our communities, our faith, our lives? All are welcome to join us in an 'underwater' exploration.
---
Seeds photos
Seeds photos here. It was beautiful.
---
Seeds - Saturday 10th September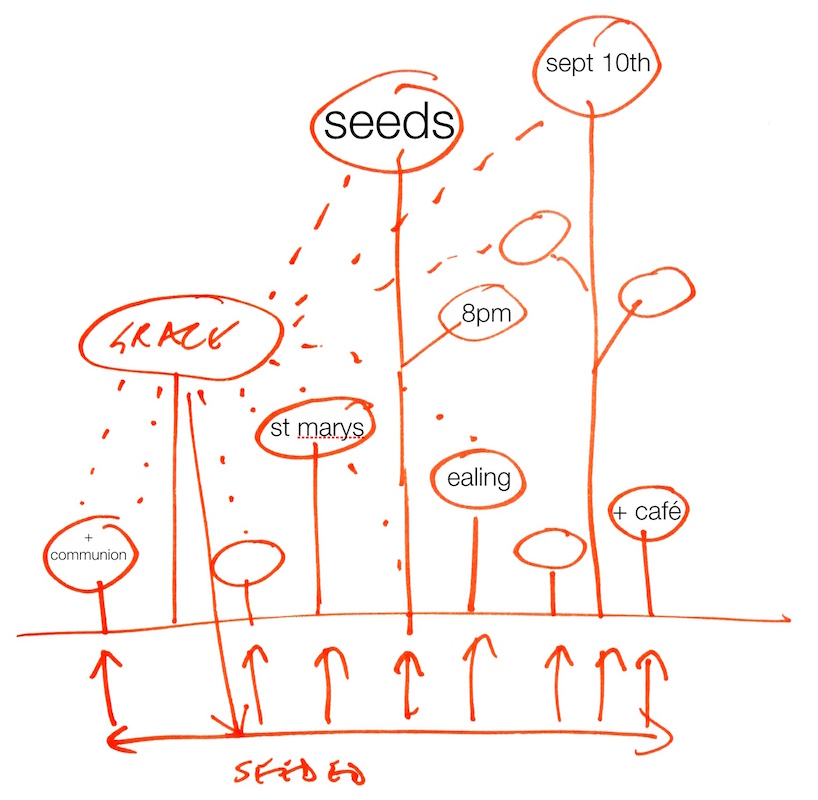 Join us for the first Grace of a new season. Seeds are everywhere in early autumn, falling and drifting, eaten and buried by humans, animals and birds, waiting secretly in the ground until the spring.
---
2016-17 dates above
Service dates for 2016-17 are now in the drop-down menu above, for your diary. More information about some of the strange-sounding titles will be forthcoming later! In addition we are thinking of doing a Holy Week installation in St. Mary's, and a series of Lent meetings.
Our primary focus this year is community - how to make it, how to strengthen it. As part of this we intend to remake our monthly planning meetings as community meals and let the planning happen in other ways. Whatever the pressures of our lives, we can always find time and energy for eating and drinking together!
---
Myths from the Margins - Saturday 9th July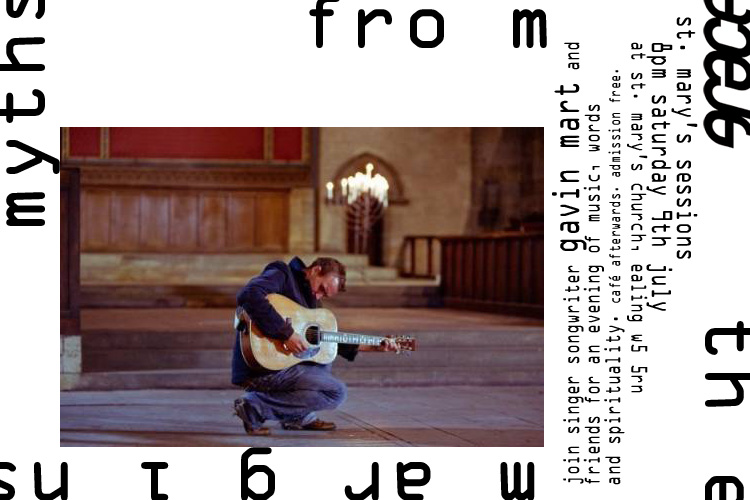 In which singer songwriter Gavin Mart and musical friends share some of their tales with us and experiences of spirituality through their music. Gavin is based in Llandudno in north Wales, where he runs an award-winning social enterprise in a brewery!
---
Grace barbecue - Saturday 11th June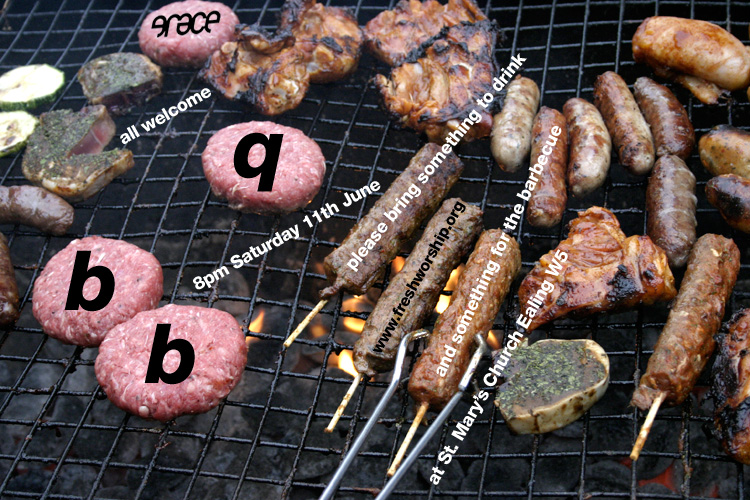 All welcome to the Grace barbecue - bring a bottle and something to cook on the barbecue. It will be helpful if you can let us know that you're coming via info@freshworship.org, so we have some idea of numbers.
---
Landmarks - Saturday 14th May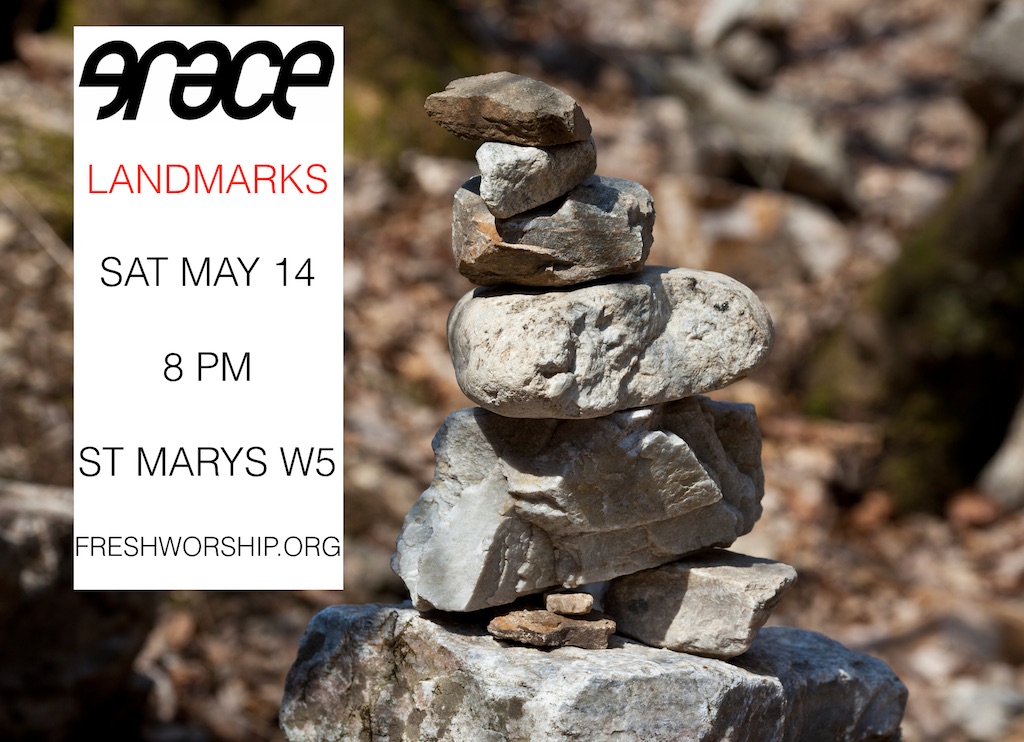 Come and join us at Grace as we celebrate the gift of the Spirit at Pentecost.
---
Lighting-up Time - Saturday 9th April
What makes you 'light up' in spontaneous worship? How do our lives and actions 'light up' God? Who's lighting who? Let your little light shine at Grace - all welcome. This is a cafe format service so drinkable contributions will be appreciated to assist us in lighting up.