Silent Communion - Saturday 14th November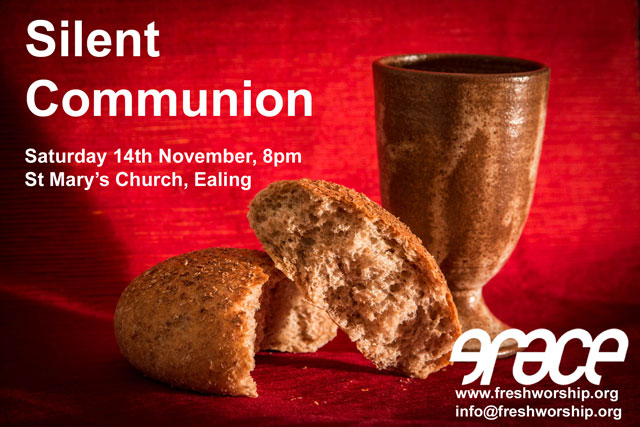 An experiment in worship - If communication goes beyond words and speech, how do we reach out to others and God and can we extend our ways of worship?
Who? - Saturday 10th October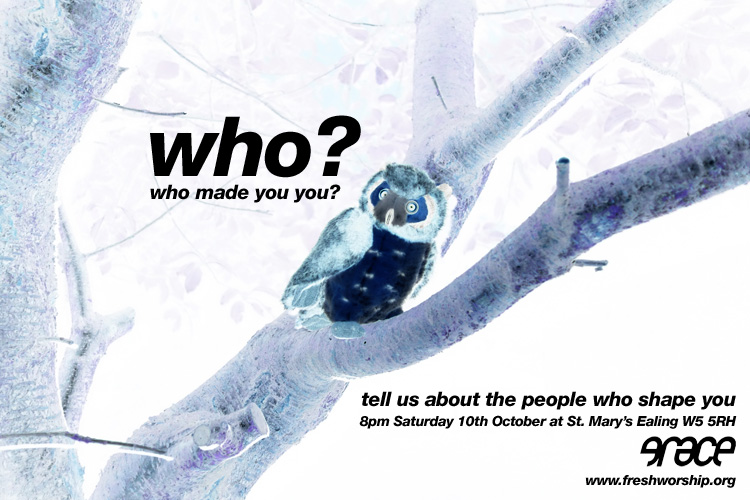 Who are your greatest influences? Spiritual, secular, contemporary, ancient? Who made you you? Come and discuss them over food and drink in the Grace café. Maybe we can swap influences, find new people to look up, new angles on those we already thought we knew. All welcome.
Fresh! - Saturday 12th September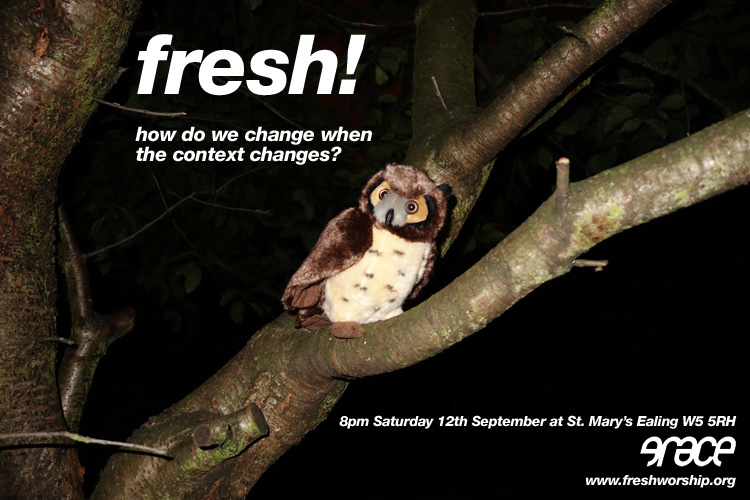 What should we change when our context changes? How do we honour the past while speaking to the future? How do we speak when our words have changed their meanings? Have you ever seen a real owl?
Welcome to the new Grace website!
The new site is phone-friendly and has updated content in the About section. It links directly to our Facebook, Twitter and Flickr feeds. The archive section is not yet complete - it takes quite a while to reformat over 20 years of material! If you need a particular archive item that is not yet available on this site, contact us at info[at]freshworship[dot]org

We apologise for any other glitches, such as links that don't lead anywhere yet, and unsatisfactory bits of typography, which we will sort out in due course.

The colours of the menu bars are mostly taken from Adam's early Grace sites 1997-2005, as a kind of brand continuity. They also give a nod to the rainbow jersey, since so many people in Grace are into cycling these days ;)
BBQ and the Rule of St Benedict - Saturday 11th July
We Celebrate the Life and Rule of St Benedict, with discussion, and a barbeque.
8pm, Saturday 11th July, St Mary's Church, Ealing, W5
Event Horizon - Saturday 13th June
Event Horizon was first staged at last year's Greenbelt Festival, in the grounds of Boughton House. It was created specifically for the landscape feature 'Orpheus', which consists of a square spiral path descending to a pool of water. We were invited by Greenbelt to consider Orpheus as a labyrinth and create a meditative walk. However, the central space, which in a normal labyrinth is a 'holy space' of encounter with God, is in Orpheus a dark pool.
This suggested the idea of an 'event horizon' - a surface from beyond which no information reaches the observer, most famously around a 'black hole' in space. Having the 'holy space' as inaccessible and impenetrable implies that God is ultimately unknowable, and not approachable beyond a certain point. The Bible says in several places that God cannot be seen [by humans, at least]. Event Horizon is a meditation on what it might mean to journey towards, and then away from, an inscrutable and silent God.
Join us in St. Mary's churchyard as we revisit Event Horizon, albeit on level ground! If the weather's bad we'll stage it in the church.
Communion by numbers - Saturday 9th May
Join us for communion by numbers - an experience of sharing bread and wine round tables...
Sense of Doubt - Saturday 11th April
How does it feel when you can't follow your friends into faith? The Sunday after Easter is known as 'Low Sunday', and the tradition on this day is to tell the story of Doubting Thomas. In our case it is 'Low Saturday', and the tradition on this day is also to make reference to music by David Bowie ;-)
St. Teresa of Avila - Saturday 14th March
Grace this month will focus on prayer inspired by the writing of St. Teresa of Avila.
Join us at 8pm, Saturday 14th March at St Mary's Church, Ealing W5.
Lent Meals
We come to the last of the Lenten meals. These are hosted in peoples homes with a mixture of prayer and discussion. This last meal is hosted by Jonny and Jenny.
Date: Thurs 2 April, 7.30pm
For information about the location of the meeting please email us via info@freshworship.org.
Love that makes no sense - Saturday 14th February
Another view of love for Valentines Day. Join us at 8pm, Saturday 14th February at St Mary's Church, Ealing W5
Join us for the first Grace of 2015 - Ruah