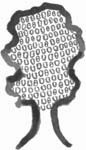 arty oak
Steve Lancaster
Illustrator
of the fantastic...
and slightly domestic
Steve Lancaster uses pen, ink, ink-wash and collage to explore the narrative power of people, objects and nature. His work is often gently comic, adult but not overbearing.

Very fine detail, precision and attention to tone invite onlookers to spend time with his images.

Steve is inspired, amongst others, by the illustrators William Heath Robinson and Thomas Henry, and by the long tradition of botanist-artists.