November 2021: Planetary Mess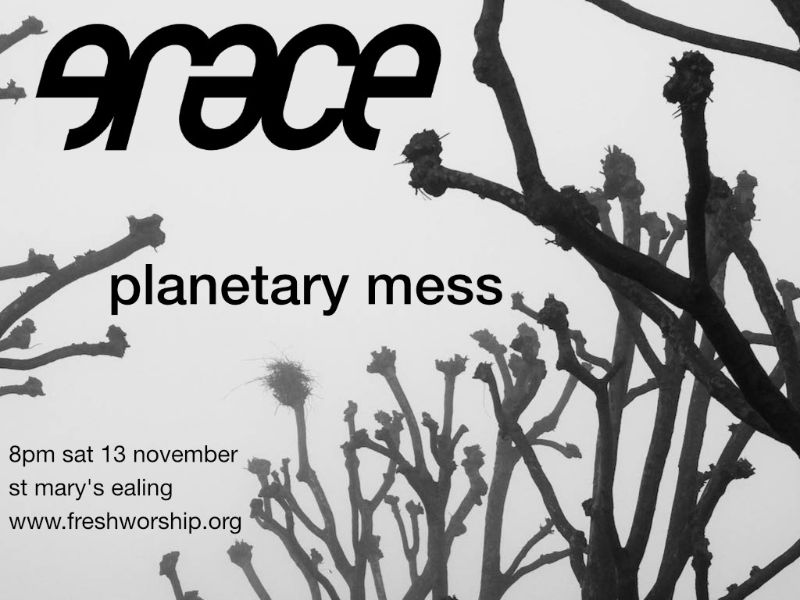 A service responding to the COP26 conference that was finishing the same day.
The slideshow for the service (pdf version) is here.
Photos are here.
Intro/welcome
Maker of the earth and all its creatures
We welcome you here
Friend of the earth and all its creatures
We welcome you here
Renewer of the earth and all its creatures
We welcome you here
You sustain the universe by your Spirit
Breathe your breath on us tonight
May we too be lovers of the earth our home and all its creatures
Amen
Music
Listen to 'Universe' by Gregory Alan Isakov
Reading
Genesis 1 - 2:4
Stations:
Leaves:
Lament:
To express passionate grief
To express regret or disappointment
It's autumn when the trees lose their leaves and winter melancholy is on its way
Sometimes we need to grieve and mourn before hope can break through
Let us create a tree of lament waiting for the spring:
A lament for what we have lost
A lament for what we are losing
A lament for what we still might lose
Read the notes written on the leaves
Use the pens and leaves to write your personal lament or laments – a word, a phrase, a drawing
Add them to the netting to create our tree of lament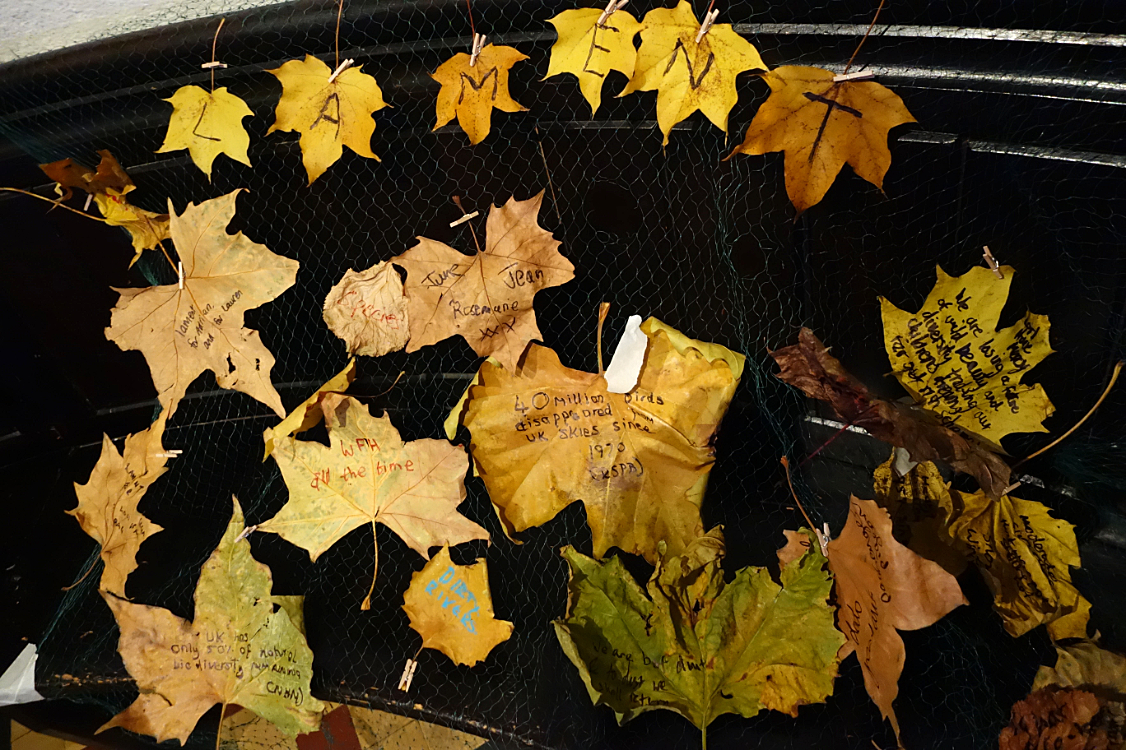 People wrote:
40 million birds disappeared from UK skies since 1970 (RSPB)
WFH all the time
40% of plants are threatened with extinction (RBG)
June, Jean, Rosemarie xxx
Since 1945 UK has lost 50% hedgerows
Lament for the loss of clean air and space
Lord have mercy. We are losing a future of wild beauty and diversity trading our children's dreams for get rich schemes
Moderate summers that were not stiflingly hot
Snow in winter
Seeing less people
At 1.5C most coral reefs die - at 2C they all die
Lament for the loss of bees and species of birds
UK has lost 133 wildlife species since 1500s (RSPB)
Less foreign travel
Dirty rivers
Ivory-billed woodpecker
Dodo
Great auk
Passenger pigeon
UK has only 50% of natural biodiversity remaining (NHM)
That eco-friendly heating is too expensive for most
Species
We are but dust and to dust we shall return
If we do the right thing we can't fly across the world to see loved ones
Hedgehogs declined by 95% since 1950s
The rain forests are being destroyed through people's greed
The animals are crying out for survival
Lament for unnecessary destruction of trees
Lament for Adrian and for Lauren
Light:
Introduction
We have been given this planet to enjoy by our creator. But with this comes a share in the responsibility of caring for God's world.
At this first prayer station, we are invited to think about how we view our world. What do we see that needs protecting?, and our behaviour that needs changing that is harmful to the planet and other species.
We are also challenged to think about what do we want to see change? Maybe by starting locally where we live. We can be examples to others, in our words and actions, by perhaps taking on one new issue in order to be 'energy efficient people'.
Do think about this and perhaps share your ideas in the cafe with others afterwards over a glass of wine.
On day one, God created light from darkness
On the first day of creation, God made the heavens and the earth, light from darkness, night and day… quite a busy day! We often associate light with the good, bright and happy things of life. And darkness can represent the things that aren't so good.
At this prayer station, you're invited to think about the way you view our world. Write all the good things about our world on the yellow paper, and thank God for them as you do so. Then write down the things that you'd like to change on the dark paper - praying for a better world as you write. Even when things do seem dark and gloomy, we're reminded that God calls us to shine with the light of faith - so don't lose heart!
Take action! Remember that darkness is sometimes OK - for example, when you switch off lights that you don't need. Let your light shine - but if you can make it an energy efficient light, even better!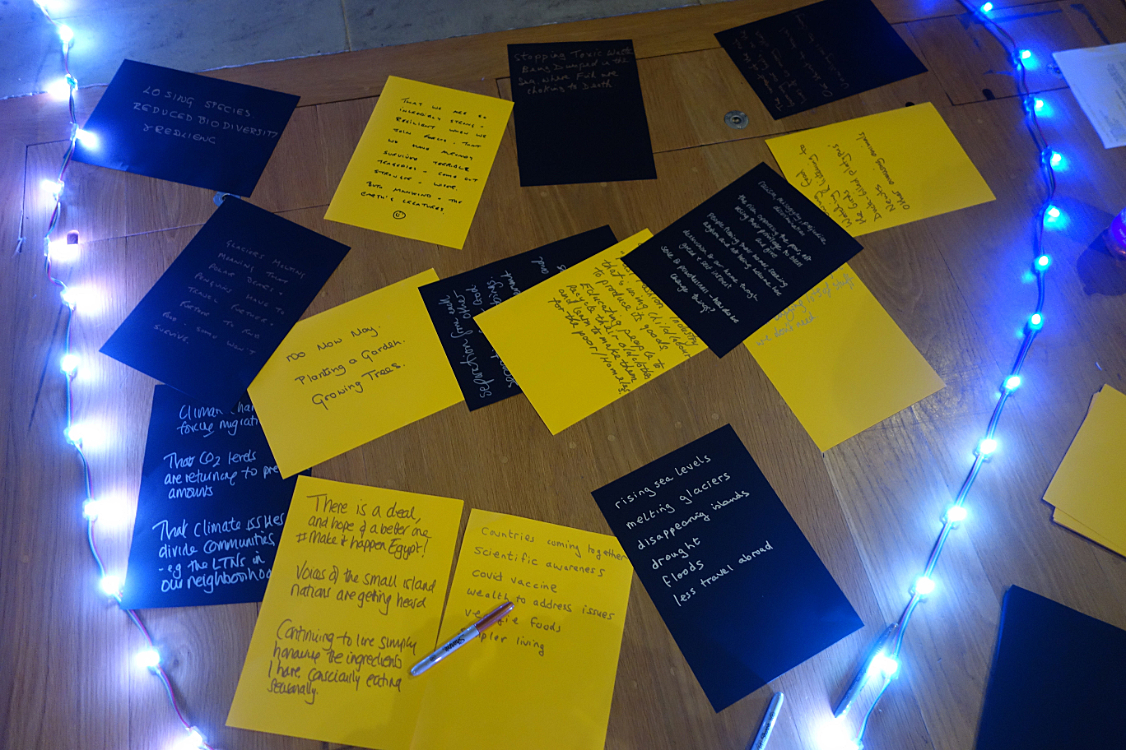 People wrote:
On the black cards:
Losing species
Reduced biodiversity and resilience
Glaciers melting meaning that polar bears and penguins have to travel further and further to find food - some won't survive.
Separation from each other
Separation from God
Violence
Stabbings
A culture of entitlement and impunity
Corruption in government and business
Rising sea levels
Melting glaciers
Disappearing islands
Drought
Floods
Less travel abroad
The impact of the rich burning our fuels, on the lives of so many others
Our thirst to travel
Unwillingness to change
Climate change forcing migration
That CO2 levels are returning to pre-COVID amounts
That climate issues divide communities eg the LTNs in our neighbourhoods
Racism, misogyny, prejudice, discrimination
The rich oppressing the poor, not using their privilege to bless and give
People fleeing their homes, seeking asylum and not being welcome here
Destruction of our home through greed and self-interest
Sense of powerlessness - how do we change things?
Stopping toxic waste being dumped in the sea, where fish are choking to death
On the yellow cards:
That we are so incredibly strong and resilient when we join forces
That we have already survived terrible tragedies and come out stronger and wiser
Both mankind and the earth's creatures
Growing food
Watching and listening to the birds
Duck-billed platypus
Newts
Other amusing animals
People realising that spending time with each other is more fun than buying lots of stuff we don't need
There is a deal, and hope of a better one #Make it happen Egypt!
Voices of the small island nations are getting heard
Continuing to live simply honouring the ingredients I have, consciously eating seasonally
Countries coming together
Scientific awareness
Covid vaccine
Wealth to address issues
Veggie foods
Simpler living
Challenging the 'fast fashion' industry that is using child labour to produce its goods
Educating people to recycle their old clothes and learn to make them for the poor/homeless
No Mow May
Planting a garden
Growing trees
Mercy:
Water is a big issue into the future.
As the planet temperature rises so too water will rise making lands uninhabitable and increasing migration.
It's a planetary mess. This station is a place to pause, lament and ask for God's mercy.
Lord have mercy
Christ have mercy
There are 5 watermelons to be carved like you would a pumpkin.
Take one of the knives and (carefully) carve on of the letters m e r c y - one in each watermelon.
Once they are carved light a candle and place inside until they spell the word 'mercy'.
Make that a prayer.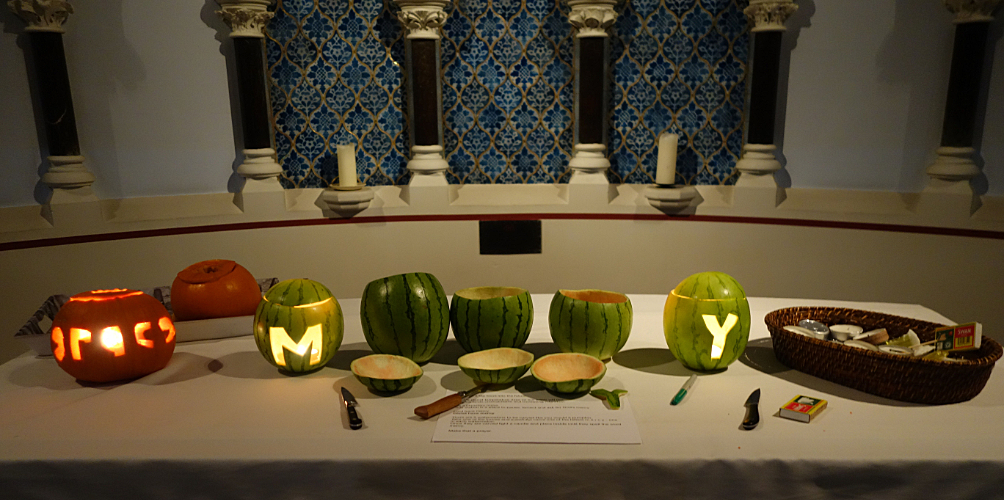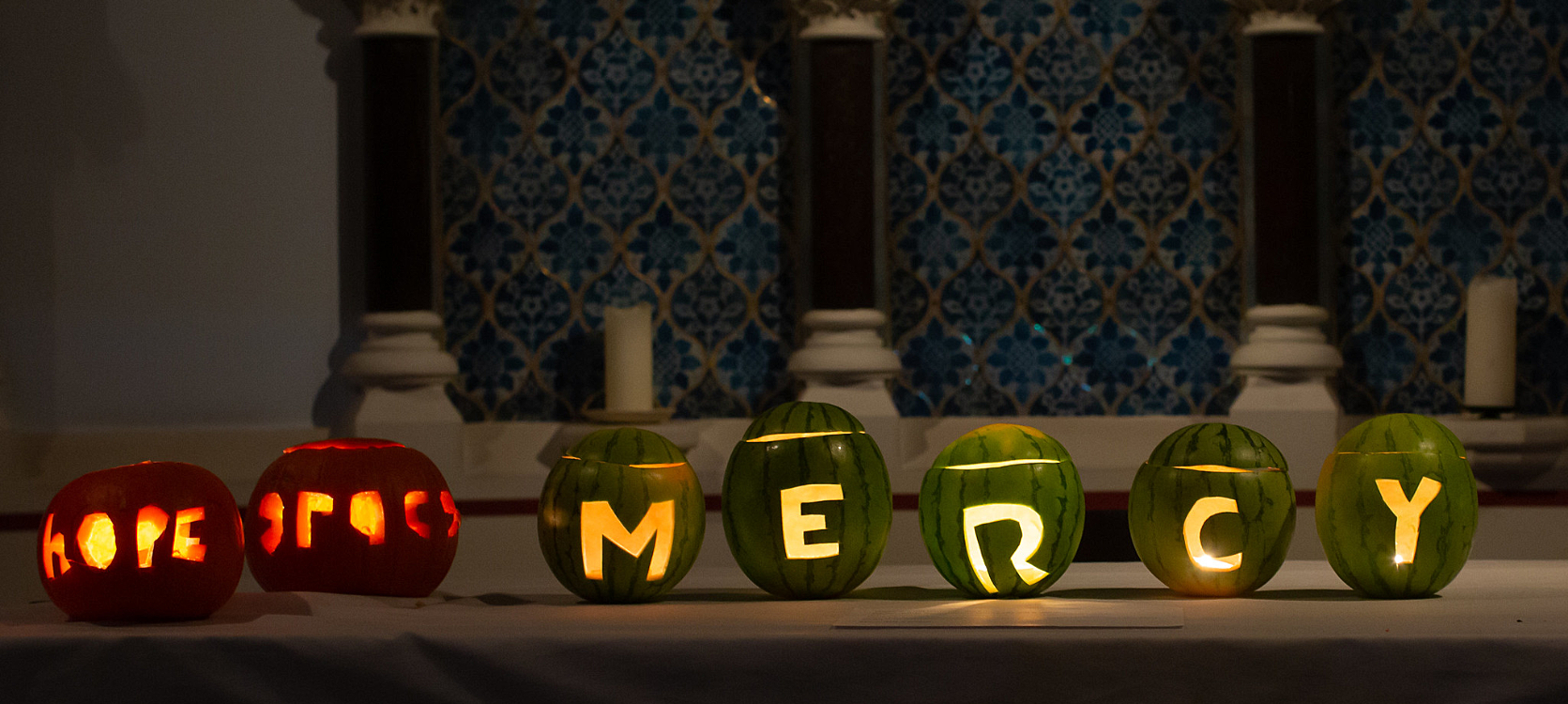 Ecocide:
1. Write:
I love you [something] you are beautiful
three times
and add to the liturgy:
A Liturgy against Ecocide
by Sam Donaldson, from Amos Trust 'Little Spaces of Hope'
I love you earth, you are beautiful
I love you earth, you are beautiful
I love you earth, you are beautiful

I love you rivers, you are beautiful
I love you rivers, you are beautiful
I love you rivers, you are beautiful

I love you trees, you are beautiful
I love you trees, you are beautiful
I love you trees, you are beautiful

I love you birds, you are beautiful
I love you birds, you are beautiful
I love you birds, you are beautiful

I love you body, you are beautiful
I love you body, you are beautiful
I love you body, you are beautiful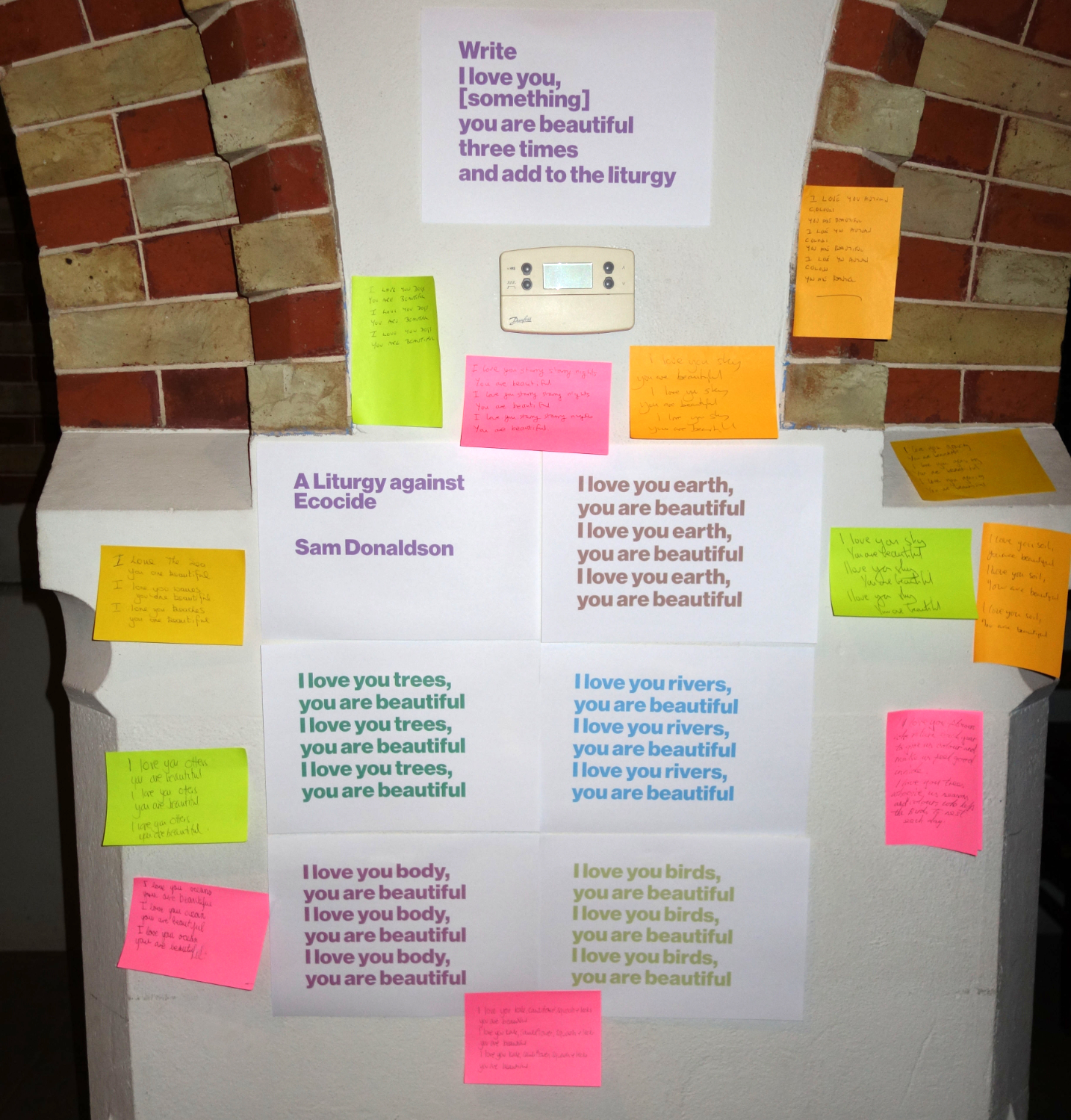 People added:
starry starry nights
dogs
the sea
waves
beaches
otters
ocean
kale, cauliflower, squash and leeks
autumn colours
sky
gravity
soil
sky [again]
flowers who return each year to give us colour and make us feel good inside
trees who give us seasons and colour, who help the birds to nest each day
2. In what ways are you a lover of the Earth?
Write on post-its and stick up
[This was mostly misunderstood - it was asking 'what are the actions you take that show love for the Earth']
People wrote:
I don't eat meat
I love the moment the plants come up making everything green
I love the smell of wet earth
I love walking through wide views on cliffs and mountains
I love walks in the country
Spotting seeds growing
Running on earth under a canopy of trees grounds me
I grow veg
I use green energy and buy less
I love birds and sea
I love the smell of rain after a dry spell
I love the miracle of migratory birds returning
Planetary mass
Welcome and Opening Prayer
The planetary mass is our celebration of life and our ritual of celebration and repentance on behalf of our culture. Here we seek to mourn the destruction of so much life on our planet and to cultivate a compassion that feels in our own flesh the wounds inflicted on others and on our planet and to awaken to the incredible awe and beauty of our existence with God.
Whether humanity has a future or whether it is going to become extinct in the next few centuries depends on our will to live and that means our absolute will for our one indivisible life. We have got used to death, at least to the death of other creatures and other people and to get used to death is the beginning of freezing into lifelessness itself. So the essential thing is to affirm life, the life of other creatures, the life of other people, our own lives.
The Lord is here
His Spirit is with us
Breathe in the Holy Spirit...
Breathe in life
And out fear
In passion
And out numbness
In hope
And out death
The Word
Wisdom - let us attend. From the book of Romans:
For the creation waits in eager expectation for the children of God to be revealed. For the creation was subjected to frustration, not by its own choice, but by the will of the one who subjected it, in hope that the creation itself will be liberated from its bondage to decay and brought into the freedom and glory of the children of God. We know that the whole creation has been groaning as in the pains of childbirth right up to the present time.
This is the word of the Lord
Thanks be to God
Discuss
How do we feel about what is happening at COP26?
[This question was amended to the present tense just before the service because COP26 overran!]
Confession
Creator God the Source of all life we confess our sin to you.
We confess where we have turned away from you and where in ignorance we have turned our back on the earth and on each other.
We confess that as we have wanted more and more we have dominated and exploited your creation.
And we admit that we are responsible for abusing the riches of our home, that we are complicit in crucifying you by polluting the air and the sea, by destroying the forests, by starving the people of the two-thirds world, and by robbing the future generations of life not yet here, our children and grandchildren.
God of all creation we turn away from our addiction
We turn back to you
Our Source and our Hope
We repent and we turn back to you
Communion
This ritual is a symbol of the worship already happening in creation. The whole universe is invited to this intimate event, the feasting on Christ. The church here has no walls - we worship with plants, planets, animals, and angels.
The day before Christ suffered he took bread in sacred hands and looking up to heaven he broke it and gave it to his disciples saying 'take eat this is my body which is given for you. Do this in remembrance of me'. In the same way after supper he took the cup and gave thanks. He gave it to them saying 'drink this all of you. This is my blood of the new covenant which is shed for you and for many for the forgiveness of sins. Do this to recall me, to remember me.'
Creator and soul of the cosmos
The universe shines with your life Lord
You're everything we desire.
We give our lives to you
You created everything that lives
Through Christ you are the Source
We believe and trust in you
Our desire is to let go of death and give ourselves to the vision of life your son Jesus believed in to the point of his own death
We commit ourselves to him
Spirit of life, integrity and truth who raised our brother from death and gives us hope beyond death here now
You are our strength and compassion
We believe and trust in you
God of life we bring wine to the table. Touch this now to become a life blood transfusion.
Christ our life we bring bread to the table to become your precious flesh. In our global village we offer it in the presence of those who starve.
Eternal source we offer water: The overwhelming swell of the oceans unique to this planet.
Creator God we thank you for the gift of soil: The foundation of the forest, the sign of our mortality
Creator God we offer ourselves along with these elements of bread and wine and join with the voice of the whole universe crying out for life and healing.
Father hear our prayer through Jesus Christ.
Amen
We can no longer see ourselves as separate from nature. We are all given a chance to participate in the story of the universe. We're all in it together - people, particles and God. Through Christ hope is built into the very fabric of space time and matter.
So now there's hope. Now contains the possibility of resurrection. So let's come to the table now and let's reconnect with Christ, hope of the cosmos, the power to renew us and change our lives now.
[share bread and wine]
Prayer
Let us pray together now for the universal church and the world.
Christ our hope at this critical time lead us into facing our denial. As the church, as a culture wake us up to an awareness of the responsibility and opportunities we now have.
We honour the wisdom gained by centuries of spiritual and artistic endeavour through the experience of our mystics and the lives and deaths of all our saints.
We pray for an open church that celebrates the coming together of all faith and wisdom traditions, the sciences and the arts.
We pray for a new time of hope, mystery and promise as we bring all these riches to bear on our global crisis.
God the Mother and Father of all creation we pray that a new way of living emerges out of the present reductionist system that's robbed the world of its spirit and turned human beings into objects and nature into a machine.
We pray for a culture that allows us to live in harmony with all creation and stops crippling the earth's diversity.
We pray that your Spirit of passionate life that raised Christ from the dead bursts now into all people in our earth community.
Creator God we pray that we will wake up to a new consciousness.
Music
Listen to 'The Soil' by David Benjamin Blower
Blessing
Extract from the Climate Justice Summit Liturgy, in Amos Trust 'Little Spaces of Hope'
Treat the earth well.
It was not given to us by our parents,
it was loaned to us by our children
So walk softly upon the earth
May its beauty surround you
May its wisdom delight you
May its music invite you
Rejoice in creation
Listen to the pain of the voiceless
Water the barren earth
Plant seeds in the wasteland
And act as if our hope in the future is irresistible.
Amen
The mess has ended
Go in peace