March 2011: The Prophet's Story
Episode 1: The King Must Die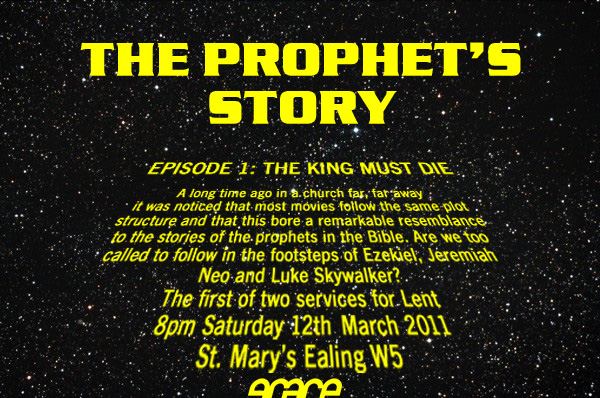 setup:
visuals to be on main screen
white sheet hung below screen
floor covered with grey tarpaulin below/around sheet
single candle on tall stand in front of sheet
glass of red wine on table next to candle
1. Intro section:
introduction to 'the hero's story' or 'monomyth' and how it might relate to the biblical stories, including images from 510+ stage Hero's Journey, Monomyth, Screenplay, Story, Structure, Templates... showing movie plotlines superimposed to show similarities of structure [star wars/harry potter, slumdog millionaire/the godfather, etc]
warn congregation that the service will end in silence and they should then leave for the cafe with no further instruction
2. the ordinary world:
Lord of the Rings I clip - arrival of Gandalf in Hobbiton
followed by news footage of our contemporary world - this happened to be the tsunami/earthquake disaster in Japan which happened the day before the service
bible readings with four voices:
the 'ordinary world' of some biblical characters:
reader 1:
Elisha son of Shaphat was ploughing with twelve pairs of oxen, and he himself was driving the twelfth pair.
reader 2:
Naomi's husband died, and she was left with her two sons. They married Moabite women, one named Orpah and the other Ruth. After they had lived there about ten years, the two sons also died, and Naomi was left without her sons and her husband.
With her two daughters-in-law she left the place where she had been living and set out on the road that would take them back to the land of Judah.
reader 3:
Zechariah's division was on duty and he was serving as priest before God. He was chosen by lot, according to the custom of the priesthood, to go into the temple of the Lord and burn incense. And when the time for the burning of incense came, all the assembled worshippers were praying outside.
reader 4:
As Jesus walked beside the Sea of Galilee, he saw Simon and his brother Andrew casting a net into the lake, for they were fishermen.
group discussion:
what is your ordinary world?
3. the calling
film clip from 'the matrix' of neo meeting morpheus for the first time - "you are born into bondage" etc then looped with no sound as background to:
bible readings with four voices:
the calling of some biblical characters:
reader 1:
The word of the LORD came to Jeremiah, saying,
"Before I formed you in the womb I knew you,
before you were born I set you apart;
I appointed you as a prophet to the nations."
reader 2:
The angel went to Mary and said, "Greetings, you who are highly favored! The Lord is with you."
reader 3:
The angel of the LORD appeared to Moses in flames of fire from inside a bush. Moses saw that though the bush was on fire it did not burn up. So he thought, "I will go over and see this strange sight—why the bush does not burn up."
When the LORD saw that he had gone over to look, God called to him from within the bush, "Moses! Moses!"
reader 4:
God said: "Son of man, I am sending you to the Israelites, to a rebellious nation that has rebelled against me; they and their fathers have been in revolt against me to this very day. The people to whom I am sending you are obstinate and stubborn. Say to them, 'This is what the Sovereign LORD says.'
And whether they listen or fail to listen — for they are a rebellious house — they will know that a prophet has been among them.
You must speak my words to them, whether they listen or fail to listen, for they are rebellious.
But you, son of man, listen to what I say to you. Do not rebel like that rebellious house; open your mouth and eat what I give you."
Then Ezekiel saw a hand stretched out to him. In it was a scroll, which God unrolled in front of him. On both sides of it were written words of lament and mourning and woe.
group discussion:
what are the modern examples of 'prophets'?
what are they calling you to?
is calling always a sudden process or can it be a journey?
is it possible to be an accidental prophet - like the person in the emperor's new clothes
how are you challenging the values of your ordinary world?
4. the refusal
on the screen:
images of modern 'refusers' - climate change deniers, gaddafi
bible readings with four voices:
the 'refusals' of some biblical characters:
reader 1:
Jonah ran away from the LORD and headed for Tarshish. He went down to Joppa, where he found a ship bound for that port. After paying the fare, he went aboard and sailed for Tarshish to flee from the LORD.
reader 2:
Moses said, " I have never been a good speaker. I wasn't one before you spoke to me, and I'm not one now. I am slow at speaking, and I can never think of what to say."
The LORD said to him, "Who gave people their mouths? Who makes them deaf or dumb? Who gives them sight or blindness? Is it not I, the LORD? Now go; I will help you speak and will teach you what to say."
But Moses said, "Lord, please send someone else."
reader 3:
Zechariah asked the angel, "How can I be sure of this? I am an old man and my wife is well along in years."
reader 4:
"Alas, Sovereign LORD," Jeremiah said, "I do not know how to speak; I am too young."
group discussion:
the theologian walter brueggemann wrote 'the king never knows what time it is'
this applies to all of us when we refuse to heed a call to move on and follow god
how are we refusing our calling?
5. accepting the call
on screen: rembrandt's painting of belshazzar's feast
bible readings with four voices:
the acceptance of some biblical characters:
reader 1:
The LORD reached out his hand and touched Jeremiah's mouth and said to him, "I have put my words in your mouth. See, today I appoint you over nations and kingdoms to uproot and tear down, to destroy and overthrow, to build and to plant."
reader 2:
Isaiah said, "Here am I. Send me!"
reader 3:
Ruth replied, "Don't urge me to leave you or to turn back from you. Where you go I will go, and where you stay I will stay. Your people will be my people and your God my God.
reader 4:
"I am the Lord's servant," Mary answered. "May your word to me be fulfilled."
intro:
we have heard that the king doesn't know, doesn't want to know, what time it is
because kings, rulers, elites want to stop time
they want us all to believe that the way things are right now is the only way they can be
that the current order of politics and economics is the only possible and realistic order
that of course we need to manage the system better and deal with its failings
but no fundamental change is possible
that if god exists then of course he approves of the king and the current system reflects his will
so any questions can be settled by the existing courts and the existing wisdom
this is what brueggemann calls 'the royal consciousness'
and we have all internalised it
we all have a stake in the way things are
we all have a stake in things continuing to be as they have been
then along comes the prophet
the job of the prophet is not to announce fixes for the current system
it's not to make realistic proposals
realistic, of course, meaning - leaving the powers that be in power
we can leave those proposals to the prophets of the royal consciousness,
the ones who say that there's peace when there is no peace
the job of the true prophet is to announce the death of the current order
the job of the true prophet is to announce that god cannot be bought by the regime
and has the freedom to bring about endings
the true prophet calls us to grief
grief for what must end and for our part in it
grief is the most radical criticism
because it announces the thing that kings cannot bear to hear - that their reign must end
bible reading - belshazzar's feast [daniel chapter 5]
group discussion:
if we accept the call - what does it cost us?
what has to end?
what do we grieve for, if it has to go?
hand out pens and paper
ask people to write or draw stuff
and stick up on white sheet
somebody from the team read out some of the items
6. lamentation
everybody stand in front of white sheet at a small distance
three voices read edited version of lamentations chapters 1-4 [on screen]
everyone says together lamentations chapter 5 [on screen]
a team member steps forward and suddenly throws the glass of wine at the sheet and over the things stuck on it
they blow out the candle and turn off the light
silence
[no further announcement - end of service. people leave for the cafe as they wish]
in the cafe:
only unleavened bread and water in cafe to begin with
by the water, a sign with lamentations 5:4 and money bowl
no music or fancy lights
unlit candles on tables
after five minutes or so when impact has been made, bring out other drinks and food