May 2011: God's not fair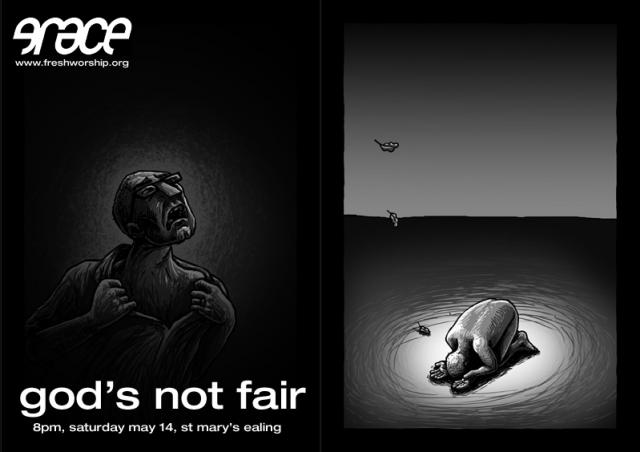 Setup
A set of mounted illustrations by Si Smith telling the story of Job were set up on a circle of church benches. The space was dark, with the illustrations lit by candles. See photos here.
The congregation were invited to examine the illustrations and contemplate them for a while, before the liturgy:
Prayer of confession
When we let our hurt stop us feeling Your love
Forgive us
When we focus on the things that we don't have and ignore the things we do
Forgive us
When we confuse fair with just
Forgive us
When we think that Your plan should be the same as ours
Forgive us
When we are take no joy in the happiness of others
Forgive us
When we feel that you don't love or hear us
Forgive us
When we can't see your light
Remind us of your light and love, which is always with us and never changing
Then read Romans 8: 38-9
then ask people to light candles.
Communion prayer
the lord is here
his spirit is with us
lift up your hearts
we lift them up to the lord
let us give thanks to the lord our god
it is right to give thanks and praise
Thank you that you created the world, and saw that it was good.
Thank you that you entered this world
to live as part of it.
You punctured the self-importance of the proud
And chastised the holy for laying heavy burdens upon your people.
Your teachings were strict but your actions were generous.
You met sickness with healing,
isolation with companionship,
self-doubt with trust,
and failure with patience.
Through your words and actions you remade the world to look more like your coming kingdom.
We long for the time when that work is complete,
when justice and peace are established on the earth.
When we can truly say,
holy, holy, holy lord,
god of power and might,
heaven and earth are full of your glory.
hosanna in the highest.
blessed is he who comes in the name of the lord.
hosanna in the highest.
until then,
we mourn when our longings go unfulfilled
we pretend to know your purposes
and wonder why you are silent.
But you are not silent. You feed us with your body and blood,
with the wisdom to know your ways,
and the holiness to line up our hopes with yours
We meet in community around your table
knowing that whatever trials we face
you have been there before
and give us companions to journey with.
Grant that by the power of the Holy Spirit these gifts of bread and wine may be for us your body and blood. That this table may be for us, the centre of our community of love and faith.
On the night he was betrayed Jesus took bread, gave thanks, broke it and gave it to his disciples saying 'take eat, this is my body which is given for you'. After supper he took the cup, gave thanks, and said 'this is my blood of the new covenant which is shed for you and for many for the forgiveness of sins. Do this in remembrance of me'
The table of Jesus is your place of gathering
Here you are welcomed, wanted, loved
Here there is a place set for you
So come all you who thirst,
All you who hunger for the bread of life
All you whose souls cry out for healing
Come all you who are weary
All you who are bowed down with worry
All you who ache with the tiredness of living
Come all you poor
All you who are without food or refuge
All you who go hungry in a fat land
Come all you who are lost
All you who search for meaning but cannot find it
All you who have no place of belonging
Jesus invites you
Draw near with faith
Receive the body of our Lord Jesus Christ which he gave for you and his blood which he shed for you
Eat and drink in remembrance that Christ died for you and feed on him in your hearts by faith with thanksgiving.
Prayer of commitment
When we can't see your plan for us or we struggle to accept it, we offer our commitment to You.
Lord, we offer you this day the commitment of all our being.
For nothing can separate us from Your love
We offer you the commitment of all our minds.
To learn, to recognise what is unknowable, what is beyond reach, what is more than we can imagine. The Word beyond words.
We offer you the commitment of all our hearts.
To look for your love and with that to pour ourselves out for a world which hungers for love, in fellowship with you and all people.
We offer you the commitment of all our strength.
To work to build your kingdom, with justice and with truth. May we work for you, wherever the task needs to be done.
We offer you the commitment of all our souls and place our trust in your loving plan for us.
Amen